What are Square Meter Rates?
Quite often, one of the first questions we get asked is what is our Square Meter Rate, sometimes even before we are asked if we have licensed builders (we do)
If you're in the market for a new home, you've likely come across standard square metre rates (m²).
On the face of it, the m² measurement offers what appears to be a neatly wrapped and boxed price across the designs for a new house plan.
However, the standard m² numbers are often calculated differently depending on which company are providing the rate.
Why can building costs per square metre be misleading?
There are a few reasons why m² figures are often misleading. Often, people's perception of what a Square Meter Rate includes differs; "does it include heating solutions?" "Tiles?" And "does it cover enough to have products with decent warranties?"
The other reason a Square Meter Rate is not an accurate price guide, is evident in the following images: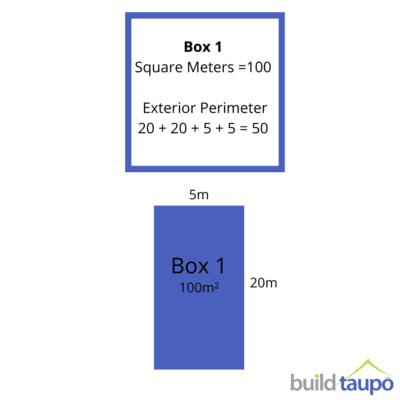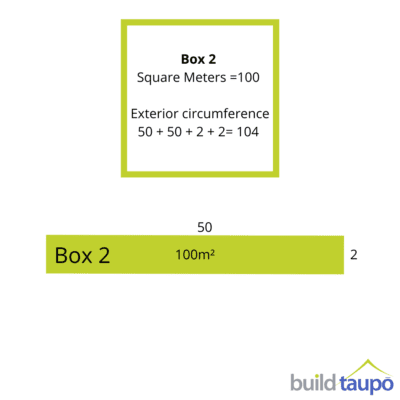 In this example, there are two home designs. Each design is unique in its dimensions but has the same calculated internal square meterage.
Box 1
Dimensions: 5m x 20m – an internal area of 100m²
Circumference = 50m
Box 2
Dimensions 2m x 50m – an internal area of 100m²
Circumference = 104m
If a potential builder provided a flat rate for m² applying to both layouts, they would overlook a crucial factor: circumference or lineal metres.
While both homes share the same internal square meterage, the difference in circumference is 54m, introducing a significant amount of additional design considerations. The additional timber, trusses, cladding, bricks, windows, gib, and labour required to cover those extra 54 metres could make the difference in price between these two homes substantial.
At Build Taupō, we use this example a lot when working with new clients; it is essential to understand that square meter rates are not the best way to price a job accurately. Jon & Amy work alongside their clients to provide personalised proposals based on their budgets and design requirements.
Are you thinking about building? Contact Jon & Amy today